At LCM Air, we provide a wide range of once off, as well as regular air conditioning and servicing maintenance programs to ensure that your air con is running in the most efficient and effective way, all year around. This not only reduces running costs, but reduces the risk of illness and other health related issues which may occur.
Servicing and Maintenance
Why should you service your Air Conditioner regularly?
Reduce your running costs – clean systems operate up to 30% more efficiently
Improved air quality – reduce environmental and microbial pollutants such as dust, fungi, mould and bacteria.
Regularly serviced systems last longer – beyond the Manufacturer's Warranty Period
Less risk of premature breakdown – with the system not having to work as hard
Avoid water leaks caused by dirty filters and drains blocked by slime and mould!!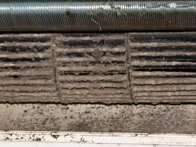 An issue with a dirty filter in a wall mounted split system – not only was the filter clogged with dust, the indoor unit had mould throughout.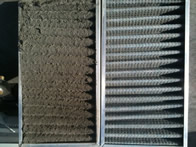 The filters of a commercial air conditioning system – the filter was clogged with dirt and dust causing the system to fault (before and after).
It's not just about cleaning the filters – mould and slime grow throughout the indoor unit and drain.
Failure to service the system may also void the manufacturer's warranty where the fault could have been prevented by regular servicing.  Whilst air filters can generally be cleaned by the home owner, we recommend regular preventative checkups to ensure the system is running smoothly.
Our Air Conditioning Service includes:
Cleaning the return air filters and cover
Checking the conditioner refrigeration system
Checking the refrigerant gas charges / levels
Checking all electric connections
Testing and observing the units for noise and vibration
Chemical coil clean
Checking and adjusting as necessary of thermostats / controls
Flushing / clearing condensate drain pipes
Regular Maintenance Program
We also offer a Regular Service Program, where we will come out to your home or office on a scheduled basis to service the air conditioning systems, so you don't have to remember to call us. Many commercial leases stipulate that the tenant must service the air conditioning systems regularly.  Book in an initial Service and we'll advise you whether we recommend monthly, quarterly, 6 monthly or yearly servicing of your air conditioner depending on your usage and how dirty the system will get.