LCM Air Conditioning provide Commercial, Residential and Industrial Services throughout Brisbane and south east Queensland.  We pride ourselves in offering a quality and professional service that ensures we have satisfied customers that are happy to use us again and happily recommend us.
Design and Installation of New Air Conditioning Systems
Servicing and Maintenance
Regular Maintenance Program
Breakdown Service
Gecko Barrier
Design and Installation of New Air Conditioning Systems
LCM Air Conditioning have in-house expertise that can advise you on the most efficient and cost effective solution to your air conditioning requirements. We will advise you on the right product tailored to suit the area, taking into consideration the size and position of the area, any windows and insulation. It's important to select the correct sized residential air conditioning system for the area because a unit too large will consume unnecessary additional power, whereas a unit too small won't deliver the cooling you expect and put stress on the system which may lead to premature breakdown.
LCM Air Conditioning will provide an obligation free quotation before any work is commenced so you know what to expect. We offer a range of brandsso we work in with your budget and we can recommend the most energy efficient air conditioning solution. We can either provide an in-home/on-site consultation or we can quote from building plans.
LCM Air Conditioning has a specialized installation team of qualified technicians that provide the best installation of your new air conditioning systems. We have carried out installations throughout Brisbane and the greater Brisbane area including Ipswich, Logan, Redcliffe and Caboolture. We have worked on many projects from domestic homes, commercial offices, retail shops, schools, public buildings, aged care facilities, restaurants, high-rise tenancies, warehouses and we've even installed air conditioning into mobile cranes!
We can provide a quotation for the complete installation process from supplying to installation including electrical power to the new residential air conditioning system, or if you prefer to supply your own air conditioner, we can provide a quotation for installation only. Call us on 1300 526 247 to arrange a free consultation to discuss the best solution to your air conditioning requirements.
We have grown our business based on our quality workmanship at affordable rates. We value our reputation in the industry and therefore we strive for the highest quality workmanship. Refer to our Customer Testimonials to read what our customers think of our customer service and workmanship.
Servicing and Maintenance
Why service your air conditioner regularly?
Reduce your running costs – clean systems operate up to 30% more efficiently
Improved air quality – reduce environmental and microbial pollutants such as dust, fungi, mould and bacteria.
Regularly serviced systems last longer – beyond the Manufacturer's Warranty Period
Less risk of premature breakdown – with the system not having to work as hard
Avoid water leaks caused by dirty filters and drains blocked by slime and mould!!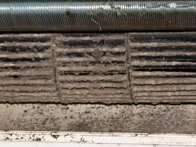 An issue with a dirty filter in a wall mounted split system – not only was the filter clogged with dust, the indoor unit had mould throughout.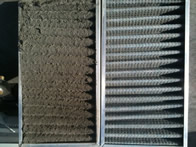 The filters of a commercial air conditioning system – the filter was clogged with dirt and dust causing the system to fault (before and after).
It's not just about cleaning the filters – mould and slime grow throughout the indoor unit and drain.
Failure to service the system may also void the manufacturer's warranty where the fault could have been prevented by regular servicing.  Whilst air filters can generally be cleaned by the home owner, we recommend regular preventative checkups to ensure the system is running smoothly.
An Air Conditioning Service includes:
Cleaning the return air filters and cover
Checking the conditioner refrigeration system
Checking the refrigerant gas charges / levels
Checking all electric connections
Testing and observing the units for noise and vibration
Chemical coil clean
Checking and adjusting as necessary of thermostats / controls
Flushing / clearing condensate drain pipes
Regular Maintenance Program
We also offer a Regular Service Program, where we will come out to your home or office on a scheduled basis to service the air conditioning systems, so you don't have to remember to call us. Many commercial leases stipulate that the tenant must service the air conditioning systems regularly.  Book in an initial Service and we'll advise you whether we recommend monthly, quarterly, 6 monthly or yearly servicing of your air conditioner depending on your usage and how dirty the system will get.
Breakdown Service
Like any mechanical device, air conditioning systems can sometimes breakdown and require repair. We offer a repair service of just about any brand of air conditioner. Please contact us to book in a Breakdown Attendance.  Our fully qualified technician will diagnose the fault, and if possible repair it on-the-spot, otherwise we'll provide a quotation for further repairs and/or spare parts required.
Gecko Barrier
Geckos can cause hundreds of dollars of damage to the electrical components of your air conditioning system, and gecko damage is excluded by most home and contents insurers.  We are offering a Gecko Barrier which prevents gecko entry and interference with the electronic components in your air conditioning system.  It's only $55 incl. GST when you service your air conditioner, and could save you hundreds in repair costs.
Our Gecko Barrier utilises a combination of silicone, spray and gel lubricants, and a pesticide repellent in and around the outdoor unit to prevent gecko entry and interference with the electronic components. This preventative service is not 100% gecko proofing but it will reduce gecko activity and should be reapplied annually during unit servicing.
We would be pleased to serve you. Kindly reach us at 1300 526 247 or you can contact us for any more information on LCM Air's residential air conditioning system installation, repairs, and servicing.